This is a Sponsored Post written by me on behalf of Victorinox Swiss Army. All opinions are 100% mine.
I find men's arms extremely sexy. They don't necessarily have to be fit and bulked either. They can be any shape or size. Its just the fact that they have the ability to labor or to love. A watch accentuates this aspect of a man. It also lets the observer know what type of man the wearer is, whether they are playful, traditional, or grab life by the ahem balls. Watches give us clues about the wearer.
Take for instance the Swiss Army Chrono Classic below. Looking at the stainless steel case and bracelet, the luminous hands and hour markers, and the date calendar, I would guess that the man wearing this watch is a traditionalist. He is hard working, conscientious and stylish. He is a man a woman can depend on to be on time, to not forget anniversaries and to look fashionable by her side.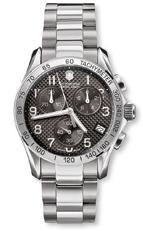 The Swiss Army Summit XLT Chrono below is a new watch in the Victorinox Swiss Army collection. Its sporty and trendsetting. Based on this and the fact that it has a synthetic strap, protected crown and that its water resistant to 100m, I would assume the wearer loves the outdoors. He is not scared to get into a few rough spots. He 's prepared for what life hands him and searches out danger with gusto. I think the man wearing this watch exudes sex appeal!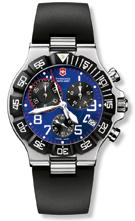 Sadly, it's becoming less and less common for people, especially men, to wear wristwatches. People today are looking to their cell phones and laptops for the time. But these are disposable means of telling the time. They are not watches — fashion statements that offer us a glimpse into the man's character and sometimes their intentions. Does your boyfriend or husband wear a watch? If not, what type of watch do you think best describes him in the Victorinox Swiss Army collection?  If I had to pick one to describe the man I am seeking, I would say the Alpnach Chrono: trendsetting, extremely rare and able to tango with this Hot Latina!
Psst check out the Facebook IWAW sweepstakes page. They are giving away a watch a day during the next 30 days! Good luck!