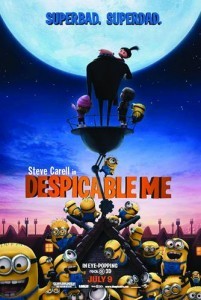 Entertainment weekly is giving away FREE advance screening tickets to Despicable Me, rated PG. The movie by Universal Theaters is set to hit theaters on July 9 but you have the opportunity to see it before it hits theaters!
Below I have copied and pasted a brief synopsis:
In a happy suburban neighborhood surrounded by white picket fences with flowering rose bushes, sits a black house with a dead lawn. Unbeknownst to the neighbors, hidden beneath this home is a vast secret hideout. Surrounded by a small army of minions, we discover Gru (voiced by Steve Carell), planning the biggest heist in the history of the world. He is going to steal the moon (Yes, the moon!) in Universals new 3-D CGI feature, Despicable Me.
Gru delights in all things wicked. Armed with his arsenal of shrink rays, freeze rays, and battle-ready vehicles for land and air, he vanquishes all who stand in his way. Until the day he encounters the immense will of three little orphaned girls who look at him and see something that no one else has ever seen: a potential Dad.
You can also view one of their trailer's below.
If you live in any of the below areas, you are eligible. These tickets won't last so avansa/ hurry! Click HERE to sign up.
Atlanta
Boston
Cleveland
Houston
Los Angeles
New York
Phoenix
San Francisco
Seattle
Washington DC
Enjoy!