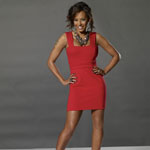 Dance Your Ass Off, Oxygen's dance and weight loss competionis on tour! It arrives in New York City -TODAY, June 14, 2010. The tour will feature live performances, FREE giveaways, dance lessons to make you move, and a chance to meet the show's host, Mel B, from the Spice Girls, pictured on the left.
The event will hit Times Square today from 11AM – 3:30 PM. Perfect for your lunch hour entertainment

If you miss it, don't worry! They will also have an evening event from 5:00PM – 10:00 PM for those who can't escape during the day.
Enjoy!