The CoverGirl Lipgloss and Lipstain Giveaway has ended and one Latinalicious commenter will receive CoverGirl's newest glosses and stains! The winner will receive the following items:  
2 Wet Slicks Lipgloss: $4.99 (price per gloss)
2 Outlast Lipstain: $8.77 (price per lipstain)
2 ShineBlast Lipgloss: $7.49 (price per lipgloss)
So without further ado, the winner is ….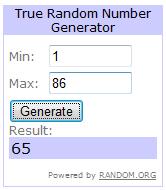 Lucky number 65! Congrats Rachel you've won! Send your contact information to MsLatina (AT) latinaonamission.com and write "CoverGirl Lipgloss and Lipstain Giveaway Winner" in the subject line.  Please provide me with the same no later than Friday, June 11, 2010, 4:00 PM EST.