The CoverGirl Eyes Review & Giveaway has ended and one lucky commenter will receive CoverGirl's newest eye products, valued at almost $40! The winner will receive the following:
2 Smoky ShadowBlast: $7.49 (retail price per shadow blast)
2 Liquid LineBlast Eyeliner: $7.99 (retail price per eyeliner)
1 Fusion Mascara: $8.99
So without further ado, the winner is ….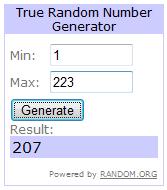 Lucky number 207! Congrats Eve you've won! Send your contact information to MsLatina (AT) latinaonamission.com and write "CoverGirl Eyes Review & Giveaway Winner" in the subject line.  Please provide me with the same no later than Friday, June 11, 2010, 4:00 PM  EST.