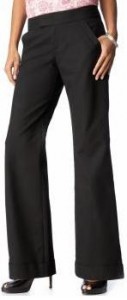 Old Navy is having a Latinalicious sale! Right now you can save 30% off ALL items, even those on sale. You can get the 30% off in stores or online by using the code at the bottom of the post. Personally, I rather shop online to avoid the lines and temptation!
As a frugal shopper I look for items I can use year round. Several that I feel are worth stocking up on are:
1. Solid T-shirts or Tanks – These can be used throughout the year since they are extremely versatile. They can be used alone, layered or underneath shirts or sweaters. I also like that they can add a touch of splash to a suit without looking out of place at the office. [Sale Price: $2.80+]
2. Womens Wedge Flip-Flops
- These may seem like a summer staple but they can be used year round! These are needed at the gym, when going to do a pedi and even at home. I prefer the wedge flip flop over the standard flip flops because they add height. They are slightly elevated off the floor with a 2″ wedge. The height protects your feet from dirt and germs, while also elevating that tush and making you appear leaner!  [Sale Price: $3.50]
3. Leggings – These are by far one of the best deals at Old Navy! I have worn the Old Navy Womens Black Jack Stretch Leggings
 under skirts, dresses, and jeans. They can also be used at the gym, to lounge around at home and even as pajamas! I love their leggings because they are chic AND cheap! They are also extremely durable, holding up even after being washed 15 times! This pick is a MUST in my eyes. [Sale Price: $7.50]
4. Accessories - I love  accessories! I find that they are the cheapest and fastest way to update an outfit. A belt can make a billowy shirt trendy while accentuating your figure. Dangle earrings can attract the viewers eyes to your face and a scarf can hide the dreaded hicky or worse GASP the lines on your neck! Because I go through accessories like water I tend to look for pieces that are trendy AND affordable. With the 30% sale going on right now at Old Navy I can stock up without breaking the bank. Psst, these make great gifts so plan ahead and get some for Christmas gifts! By the time Christmas comes along others will have forgotten that Old Navy had a sale and believe you spent more! [Sale Price varies per product]
5. Workwear:  In this section I include trousers, cardigans and dresses. I believe a lady needs at least one of each of these items in her closet. They are can be mixed and matched,  worn up or down and can be used year round if purchased in solid basic colors.  I also love that Old Navy creates clothes for real women! [Sale prices vary per item]
Do you think we should add anything else to the list? Let us know in a comment!
To get 30% off your oldnavy.com
purchase enter ONBIG30 at checkout. Sale ends June 29, 2010 and excludes gift cards.
Enjoy and don't forget to stash that extra ca$h!