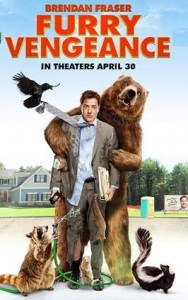 Furry Vengeance, rated PG, is set to open nationwide on April 30, 2010 but I was able to snag some screening tickets! I have 10 admit 4 passes for EACH of the below theaters. The 1st ten in each area to leave me their email will receive a pass! Just make sure you let me know which theater/state you are interested in when you leave your comment!
Please note that the tickets are FIRST COME FIRST SERVE and that theaters overbook the theaters to ensure that they are full. If  capacity is reached, the theater will not let anyone else in, even if they have a pass. Arriving at least an hour earlier, or more in busy areas, is a good way to avoid not getting into the theater.
Below I copied and pasted a brief synopsis:
A hilarious new comedy for the whole family, FURRY VENGEANCE stars Brendan Fraser (THE MUMMY) as a real estate developer whose latest project threatens the homes of the local forest creatures. The woodland critters don't want their homes disturbed, and seek comical revenge by turning a peaceful cul-de-sac under construction into a battlefield of epic proportions. Led by an incredibly clever raccoon, the diverse group of animals is far more intelligent, cunning and resilient than our hero expected. It's man versus nature, and the fur is gonna fly! FURRY VENGEANCE is a live-action comedy with computer-animated effects, and also stars Brooke Shields, Matt Prokop (HIGH SCHOOL MUSICAL 3), and Ken Jeong (THE HANGOVER, PINAPPLE EXPRESS).
******************** 
Saturday 4/24 at 10:00am
United Artists Cottonwood Stadium 10
(10000 NW Coors Blvd., Cottonwood Mall, Albuquerque, NM, 87114)
Saturday 4/24 at 10:00am
Kerasotes City North 14
(2600 N Western Ave, Chicago, IL 60647)
Saturday 4/24 at 10:00am
Cinemark 17
(11819 Webb Chapel Road, Farmers Branch, TX 75234)
Saturday 4/24 at 10:00am
Edwards Greenway Grand Palace 24
3839 Weslayan St Houston, TX 77027
Saturday 4/24 at 10:00am
Edwards South Gate Stadium 20
(8630 Garfield Avenue, South Gate, CA 90280-3700)
Saturday 4/24 at 10:00am
Carmike 20 (3003 S Expressway 28, Edinburg, TX 78539)
Saturday 4/24 at 10:00am – 364 seats
Cobb Dolphin 19
(11471 NW 12th St, Miami, FL 33172)
Saturday 4/24 at 10:00am
AMC Empire 25
(234 West 42nd Street, New York, NY 10036)
Saturday April 24th at 10:00am
Harkins Arizona Mills 24
(5000 South Arizona Mills Circle, Tempe, AZ 85282)
Saturday 4/24 at 10:00am
Santikos Palladium
(17703 IH 10 W, San Antonio, TX 78257)
Saturday 4/24 at 10:00am
San Diego
AMC Plaza Bonita 14
(3050 Plaza Bonita Road, National City, CA 91950)
Saturday, April 24 at 10:00am
AMC Eastridge 15
(2190 Eastridge Loop San Jose, CA 95122)
I plan on going to the New York screening and can't wait! Hope to see you there! Enjoy and don't forget to stash that extra ca$h or better yet splurge on breakfast and make a day of it!  

You can also click HERE to go to the official site.
NOTE:  Screening tickets will be sent via e-mail to the email address noted in the comment no later than 11:59 EST, April 23, 2010, or when requests in that area have reached ten, whichever comes first.