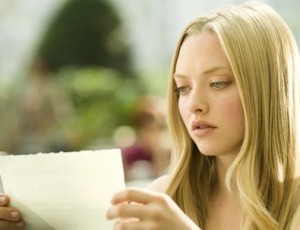 Letters to Juliet, rated PG, is a romantic love story that took 50 years to rekindle. It shows the power of love, new love and old love, and how its never where we expect it!  
The film is set to be released in theaters on May 14, 2010; however, ten (10) Latina On a Mission readers in EACH state mentioned below will be able to win admit 2 passes to advance screenings by leaving a comment with their email AND the area they are interested in!
Please note that the tickets are FIRST COME FIRST SERVE and that theaters overbook the theaters to ensure that they are full. If  capacity is reached, the theater will not let anyone else in, even if they have a pass. Arriving at least an hour earlier, or more in busy areas, is a good way to avoid not getting into the theater.
Advance screenings will be held on Tuesday, April 27th or Wednesday, April 28th at 7:30 pm (theaters TBD) in the following areas:
New York
Los Angeles, California 
Miami, Florida 
Chicago, Illinois 
Dallas, Texas 
Houston, Texas 
San Antonio
Albuquerque, New Mexico  
McAllen
San Francisco
San Diego
Phoenix
Below I copied and pasted a brief synopsis:
When a young American (Amanda Seyfried) travels to the city of Verona, home of the star-crossed love Juliet Capulet of

Romeo and Juliet

fame, she joins a group of volunteers who respond to letters to Juliet seeking advice about love. After answering once letter dated from 1957, she inspires its author (Vanessa Redgrave) to travel to Italy in search of her long-lost love, which sets off a chain of events that will bring a love into both their lives unlike anything they ever imagined.
You can also click HERE to go to the official site to view a trailer and enter to win a trip to Italy!
NOTE:  Screening tickets will be sent via e-mail to the email address noted in the comment no later than 11:59 EST, April 26, 2010, or when requests in that area have reached ten, whichever comes first.