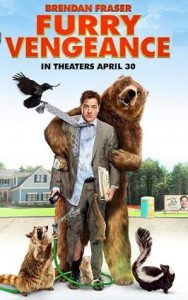 This past weekend the boys and I had the opportunity to see a screening of Furry Vengeance. The film, rated PG, starring Brendan Fraser as Dan Sanders (Dad), Brooke Shields as Tammy Sanders (Mom) and Matt Prokop as Tyler Sanders (son), is set to open nationwide on April 30, 2010.
After watching the movie, I believe it should go on your must see list of family friendly movies. The movie is hilarious and entertaining for both parents and children.
Below I have written a brief review. Be forewarned it may contain spoilers!
********************
I normally do not like movies with animals, however,  I was pleasantly surprised to find that wasn't the case with Furry Vengeance. Brendan Fraser was in his element in this movie. He was entertaining, in a bumbling boyish sort of way, which was perfect for a children's movie.
As the Dad, Brendan Fraser, took a new job opportunity that he believed would advance his career. He had to develop a new residential development while destroying the forest and habitat of several forest animals, including a very cunning raccoon, smelly skunks and terrifying turkeys!
There were various scenes which had me laughing out loud. The animals in this film were very inventive. One of my favorite scenes started with a crow tapping on the window, that caused Tammy, played by Brooke Shield, to doubt her husband's sanity! It spiraled downwards pretty fast for Dan after that. His son turned against him,his workers were doubting his masculinity and his boss was ready to fire him but he still trudged on…
The ending was perfect. Dan eventually realized what was important and stood up for what was right, saving the day – Daddy style!
Just a note, don't leave until after the credits finish. There are some very funny clips of the actors dancing and reenacting various scenes from movies and music videos,  including one from the Blue Lagoon!
********************
If you see the movie, please come back and let me know what you think! I would love to hear your thoughts!
Disclosure: In order to review the film, I received advance screening tickets. Said tickets did not influence my review.