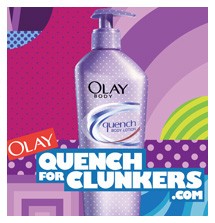 I recently received an email from Glamour Magazine, letting me know that Olay Quench is giving away a FREE body lotion!
To help you "eradictae the ash" and show your sass, they are giving all the dry-skinned ladies out there (and you know who you are girl!) a rebate for a FREE bottle of Olay Quench.  
Below is the video outlining the details.
Click HERE to download the rebate form for a savings of almost $10! Prices vary per store. Offer valid for US residents only until 4/19/2010. Void in Maine. Must be post marked by 4/30/2010.
Enjoy and don't forget to stash that extra ca$h!