This past weekend the boys and I had an opportunity to go to the American Museum of Natural History to attend an interactive family science theater show.  The live show called Dr. Nebula's Laboratory is geared towards younger children, ages 5-10, and their families. Its part of a series, featuring various topics from early human ancestors to the solar system. 
Dr. Nebula's Laboratory uses the theater and story-based learning to bring to life the Museum's exhibitions. Its not "Night at the Museum" with pre-historic creatures and people running around; however, its entertaining enough to captivate the younger audience.  It teaches while engaging, supplementing and in some cases stepping in where schools lack.   
Knowing that schools cannot do more with the funds they have, makes me love Dr. Nebula's Laboratory that much more!  I've seen how similar programs have worked in my teen's life. It encouraged him and exposed him to an area of science he was not learning in school. It also exposed him to a variety of children from different backgrounds. The American Museum of Natural History appears to do the same.  In fact, it goes a step further by utilizing audience participation, which helps children retain what they have learned from the day's topic.
For those of you near the NYC area, I've copied and pasted below information on their upcoming  shows:
Water, water everywhere—but what do we really know about where our water comes from? Join Scooter as she follows the story of Drop and learn about the water cycle, conservation, and how to become a steward of this resource.
Dr. Nebula is lost in space! Come help Scooter learn about the planets and moons of our solar system. By becoming part of a three-dimensional model of the solar system, the audience will help locate Dr. Nebula.
What would it have been like to hang out with our earliest ancestors? Scooter and the audience must travel back in time to find Dr. Nebula, exploring our human origins and learning about our most distant relatives along the way.
Scooter is digging up a storm! Uncover the mysteries of the Ancient Dinosaurs and find out what might have happened to them in this pre-historic adventure in Dr. Nebula's Laboratory.
The Earth may be warming but there's a chill in Dr. Nebula's Laboratory. Join Scooter as she investigates the reason for the seasons, the effects of temperature on our planet, and the states of matter.
The Musuem is open daily from 10 am–5:45 pm, except Thanksgiving and Christmas. Suggested general admission prices are $16 for adults, $12 for students/seniors and $9 for children.  Note, prices are suggested and do not include the price of shows or classes. If you cannot afford the suggested price, you CAN pay less, as long as you do it on-site at the Museum. For more information, call 212-769-5100 or visit the Museum's website, amnh.org.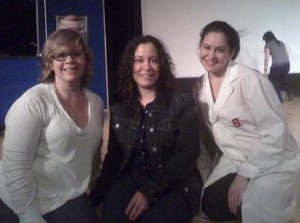 From left to right: Suzanne Morris, writer and producer of Dr. Nebula's Laboratory, Ms. Latina with curly hair, Scooter, the character created to connect with the children