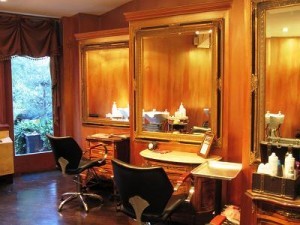 Recently I had the opportunity to try Bruno's Salon and Spa. I know, I know you must be thinking all spas are alike right? WRONG!
I've frequented some big name spas, which will remain nameless, and realized bigger doesn't always mean better. When using the services in these unnamed spas, I've called ahead to make appointments and waited with bated breath for the day of relaxation; however, I received anything but relaxation. I was rushed or worse made to feel as if I was not welcome in their spa. Those particular establishments did not provide the zen-like atmosphere or relaxation that one should expect at a spa. Now I'm not talking about music or dimmed lights, I'm talking about the personal touch, the human touch, that can sometimes get lost in larger locations, but was found in abundance at Bruno's place.
Bruno Salon and Spa, located in Brooklyn, New York, appears smaller than it actually is from the outside. The first floor consists of a salon with hair washing stations and a make-up application area.  Downstairs is a spa area with several rooms for massages and facials, as well as a separate area with manicure and pedicure stations.  All of these would make the place shine on its own, but for me the icing on the cake were Bruno's employees. They are pleasant and accommodating, working hard to ensure your satisfaction is met during your visit.
I received several services at the Bruno's Salon and Spa. I noted below a brief explanation of each, along with my reaction.
********************
Electro-Lymphatic Drainage Therapy
Description: The Electro-Lymphatic Drainage Therapy sessions are supposed to strengthen your immune system with 8-10 treatments. It works on your system by moving the lympatic fluid through your body with the Lymph Drainage XP™ machine.  The machine is supposed to use a blend of gases enclosed in a glass that "emit an energy field which penetrates the skin and stimulates the lymph nodea and lymph system. By doing so, it would give you more energy and prevent sicknesses, like colds, flu, sinus problems, slow metabolism and many other impairments.

 

Reaction: I enjoyed the session, however, I was skeptical when the Certified Lymphatic Decongestive Therapist touted the many benefits of the machine. That skepticism caused me to disregard the therapist's instructions to drink 6 glasses of water before the end of the day or suffer from flu-like symptoms the following day. I should have listened. By the next morning, I did have flu-like symptoms that lasted two days. Could it have been psychosomatic? I don't think so.  In the end, I cannot confirm that the Electro-Lymphatic Drainage Therapy sessions can do what they claim, since I did not receive the suggested 8-10 treatments, yet I can state emphatically that NOT following the Therapist's instructions caused the stated adverse effects.   
Spa Mini Facial
Description: The Spa Mini Facial is not as long as the other facials. It is approximately 1/2 hour. During that time, your face is placed under steam. The steam opens your pores allowing the technician to cleanse them of impurities. Your face is cleaner and brighter upon completion.

 

Reaction: I loved the Spa Mini Facial! Normally, I have difficulties breathing under the steam because of my allergies but at Bruno's Salon and Spa the technician took the time to angle the steam at an angle that did not cause discomfort. Eleni, the technician who attended me, was very attentive to my facial concerns, explained my skin type and provided tips to care for it.
Wash and Style
Description:  The Wash and Style is self explanatory. A client's hair is washed and than styled.

 

Reaction: Crystal, who washed my hair, gave me a mini massage while doing so. She also took her time, washing and rinsing my hair more than once. She than directed me to Nicole, the hair stylist. Nicole was FABULOUS! I told her to style it as best she could, giving her free reign. She worked magic on my hair, giving it waves and volume where needed. The end result was Latinalicious! When I left the salon and the wind blew through my hair, I felt as if I was filming a hair commercial..c.stunningly sexy!
Gel Wrap Manicure 
Description: The Gel Wrap Manicure is similar to silk wrapped nails. Gel Wrap Nails use a gel acrylic. After the gel application your nails are placed under a UV light to harden and dry.  

 

Reaction:I have never seen my nails dry so quickly! As a busy single Mom, this is extremely important. I do not have the time or patience to sit under the nail dryer. For that reason, I tend to get a very light polish that will not show smudges or imperfections. With the Gel Wrap Manicure,  I was able to choose a color based on preference instead of practicality. Samantha, the manicurist, was wonderful! She helped me choose a color that was bubbly and bright and suited my bohemian style. She also applied the gel wrap quickly and efficiently, two very important qualities for busy women.  After she completed the Gel Wrap Manicure, she advised me on how to maintain the nail polish, as well as how to remove the polish (soaking them in nail polish remover and filing when needed). I have to admit, the nail polish was supposed to have lasted 2 weeks without chipping or peeling but mine did not.  I don't think it could be blamed on the Manicurist or gel wrap. I did some very heavy cleaning during the week, using Clorox and several other harsh products without gloves, which made the gel wrap chip and peel off.
 ********************
Based on the services I received and the experience I had with the spa employees, I highly recommend Bruno's Salon and Spa! Click HERE to view photos.
Have you had an eventful spa experience, good or bad? Please share!
You can find these and other treatments listed at Spaweek.com. You can also look for new spa deals in your city every month at www.spaweek.com/deals.
Disclosure: In order to review Bruno's Salon and Spa, I was sent by Spa Week Daily to experience a day of wellness at Bruno; however, this in no way influenced the opinions expressed herein.