As a busy Mom of two active boys I sometimes opt for the quickest and unhealthiest meals. However, I am trying to change our gameplan and was lucky enough to have Sylvia Melendez-Klinger, MS, RD, LDN, create this sponsored post! 
Mil gracias /Many thanks Silvia for providing us with these simple steps for boosting our health and a Latinalicious recipe that will tantilize our tastebuds!
********************
With Spring upon us, now is the perfect time to take a closer look at your diet and find ways to make the most out of every meal. This may seem like a daunting task, but with a few simple steps you can boost your health without sacrificing flavor.
1. Select a Natural Source of Omega-3
One of the easiest first steps you can do to improve your diet is to add more omega-3s. Studies show that a diet containing omega-3s may decrease the risk of certain cancers, decrease blood pressure, reduce Alzheimer's symptoms, improve arthritis and joint pain, and promote heart health. Since our bodies cannot make omega-3 fatty acids, it's important to regularly include them in our diets.
Not sure where to start? Try a natural source. Many experts, including the American Heart Association, recommend consuming at least two servings of seafood a week. Fish and seafood – like shrimp, tilapia and salmon – are a natural source of omega-3s, a great lean protein option and are full of vitamins and minerals including iron; zinc; and vitamins A, B and D.
I've found that many people are intimidated when it comes to preparing fish, but it really can be so easy. The secret is to keep the ingredients simple and flavorful and look for shortcuts to take time out of the preparation without losing the flavor. For me, frozen seafood (my family likes Gorton's) is one of the simplest and most affordable ways to enjoy fish at home.
2. Lighten up Side Dishes
Try side dishes that are steamed or broiled, like mixed vegetables, instead of side dishes cooked in butter or oil. And, seek out substitutions to reduce sodium and fat:
Instead of salt, try a splash of low-sodium vegetable or chicken broth. One-quarter tsp of salt contains 500 mg of sodium, while one-quarter cup low sodium chicken broth only contains 25 mg sodium.
Replace white rice and pasta with a whole-grain variety. Whole grain pasta/rice is rich in complex carbohydrates, vitamins, fiber and antioxidants.
Use non-stick cooking spray in place of butter
Substitute mayonnaise with non-fat yogurt
3. Cook with Nutrient Dense Foods
Add fiber filling, nutrient dense foods like leafy greens, lentils and other beans to your recipes for a healthy serving of vitamins and minerals without adding any fat. I also like to use avocado in place of cheese for an extra nutrient boost.
Try my Mini Tostadas with Guacamole and Shrimp for a flavorful snack packed with nutrients. Gorton's Classic Grilled Shrimp add an authentic flavor with no extra seasoning or preparation needed. For more recipes and meal ideas, visit www.gortons.com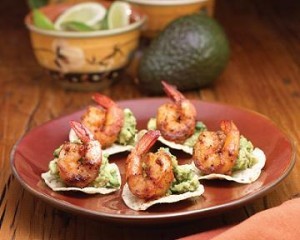 Mini Tostadas with Guacamole and Shrimp
4-6 Servings (12 mini tortillas)
Ingredients:
1 (8oz.) package Gorton's Classic Grilled Shrimp
4 ripe avocados
2 tablespoons lime juice (or the juice of 1/2 lime)
1/2 cup cilantro, chopped
Salt to taste
10-12 mini tortillas (about 3″diameter), toasted or round tortilla chips
Directions:
1. Prepare Gorton's Classic Grilled Shrimp according to package instructions.
2. In a medium bowl gently mash avocado pulp with a fork.
3. Add lime juice, cilantro and salt. Fold gently.
4. To assemble tostadas, place mini tortillas on a serving platter and divide guacamole among all the tortillas.
5. Top each prepared tortilla with one prepared Gorton's Classic Grilled Shrimp. Remove shrimp tail for easier eating.
ABOUT SYLVIA MELENDEZ-KLINGER
Sylvia Melendez-Klinger, MS, RD, LDN, is founder of Hispanic Food Communications, Inc., a food communications and culinary consulting company. She is an active member of the American Dietetic Association and the Grain Foods Foundation Medical Advisory Board. She also serves as the nutritionist for the national syndicated show Hispanics Toda, a frequent guest for Univision's popular show Despierta America and Telemundo Chicago News, and a columnist for Paisano newspaper and decisivemagazine.com.
This is a Sponsored Post written by Sylvia Melendez-Klinger, MS, RD, LDN.