I love Clinton Kelly's fashion sense! He's worked in the fashion industry for several years and currently is a co-host on "What Not To Wear". On that program, he works with his co-host, Stacy London, to show women how to dress fashionably with the bodies and lifestyles they have.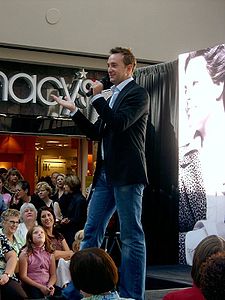 If you haven't already heard, Clinton Kelly has also teamed up with Macy's to make-over one very lucky women. The winner will receive the following:
A trip for 2 to New York City (Wooo Hooo you can visit me!)
Head to Toe makeover by Clinton Kelly
$5,000 Shopping Spree
In order to enter you must be over 18 years old and can be any size and shape. You may be asked to wear heels, wear a dress,as well as, cut and dye your hair. It will be a true transformation that will showcase your outer beauty.
To read the rules and apply to "Make Over America", click HERE.
Let us know if you enter in a comment below! We'll love to root for you!