As much as I hate to admit it, my skin is no longer the same radiant Latinalicious complexion I had was younger. The enlarged pores, uneven skin tone and sighhhhhhhh fine lines have started to emerge. I now see the laugh lines around my eyes and mouth much more prominently than I did a few years ago.  
I've read of several ways to prevent these lines from appearing, including not laughing or frowning, but who could live like that! As a Latina, I hate to perpetuate the sterotype but I do. I'm emotional. I wear my heart on my sleeve. My joy and disappointments are all evident in my facial expressions. In fact, I hate to admit it but my lips are pursed right now!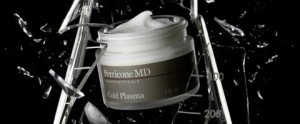 Knowing I will never be able to live an expressionless life, I was more than delighted when I received a full sized bottle of Perricone MD Cold Plasma. It has received numerous awards and recommendations from Marie Claire, Women's Wear Daily, and Harper's Bazaar.  Its also great for all types of skin types, including sensitive skin since it does not contain any artificial colors or fillers, fragrance, mineral oils, sulfates or parabens.  
After using the product, I have to say the recommendations were spot on! It made my pores look smaller and my skin look brighter.  It also helped combact the effects of stress and pollution that I face on a daily basis.  My skin no longer felt dull and dry. It felt tighter, firmer and, yes,  younger, and this was without foundation! The ultimate compliment was when one of the Dad's in my son's school thought I was his sister! Talk about an ego booster!
I have to say that the price tag on the product can seems a bit steep at first glance ($150) but it is well worth the price. Since using it I have not purchased the countless amount of beauty creams and products I normally purchase to try  to make my face look young and radiant because there is no need. Cold Plasma does make my face look younger and more radiant and who doesn't want to look young and radiant?!  
So in response to the question, "Is Cold Plasma Therapy As Good As They Say?"
I have one word for you…
YES.
Psst I'm excited to say that one Latinalicious reader will have the opportunity to win one soon so stay tuned!
Disclosure: In order to provide an honest review, I received the product reviewed. No other compensation was given and the opinions in this post are mine.