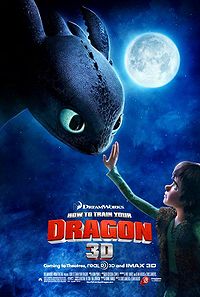 On Tuesday my brother, sons and I had the opportunity to see "How To Train Your Dragon". The movie by DreamWorks Animation was filmed in 3-D, which is all the rage right now! Its sure to connect with all age groups and genders, since it has action, romance, comedy and a touching father/son backstory.
Below is a brief synopsis of the movie. Be forewarned it may contain spoilers!
When the film opens you are thrust into a world of vikings and dragons with dizzying quickness. The action begins immediately, as the vikings and dragons battle for food and livestock. Vikings run helter skelter attempting to salvish and protect what they can. The 3-D effect makes it seem as if you will be splashed with water, blown away from the wind of the dragon's wings or hit with flying spears!  In the midst of all the ruckus, we are shown Hiccup, the son of the Stoick, the Viking King, a small waiflike viking so unlike the others. With comically disastrous  results, Hiccup jumps into the fray in an attempt to prove to everyone, including the girl he loves, that he is just as capable as the other Vikings.
Thereafter, Stoick, believing he knows best,  in pure Father fashion, shuttles Hiccup off for his own "protection". Like most young adults, Hiccup is undeterred and does not heed his father. He is determined to find a dragon and prove his worthiness! He eventually discovers Night Fury, the most dangerous and mysterious of all dragons. The dragon is injured. Hiccup in very unviking-like behavior befriends and helps the dragon, even naming him "Toothless".
The laughs, romance, drama and 3D effects shown in "How to Train Your Dragon" come together is such a wonderful fashion that you forget you are not a part of the scenes. I found myself cheering with Hiccup as he trained dragons, almost in tears when Stoick said, "You're not my son", gasping in horror when Hiccup was almost killed, in fits of laughter when the one legged Viking noted he carried extra undies in case all hell broke out, and wishing I had Hiccups' friends when they came to his aid!
Surprisingly, the ending is not what you would have expected. The twist, not often seen in most children's animated films, is yet another one of the reasons I liked the movie so much.
"How to Train Your Dragon" is an entertaining movie that is sure to delight everyone in the family.  After taking a consensus, my family and I agree it is a must see!
Click HERE to go to the official site and watch the trailer.
Also make sure you enter to win 4 movie tickets and a $25 restaurant.com gift certificate by clicking HERE!