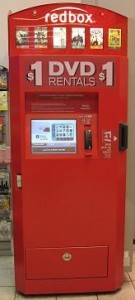 I recently received an email from Redbox with a FREE Redbox code. The code is valid on March 11, 2010 only. It expires after 11:59 PM Central.
I'm not sure which movie the boys and I will watch but am thinking of 2012, Where the Wild Things Are, or The Time Traveler's Wife. Have you seen any of these movies? Which do you think I should get as my freebie?
What about you which movie do you plan on grabbing with Redbox code 25HZ2DH? Let me know in a comment!