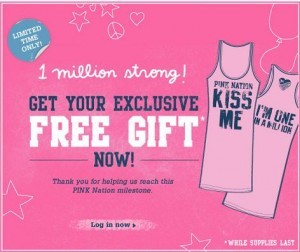 Yesterday, I received an e-mail from Pink Nation. It looks like they are celebrating the one million mark and are sending members a coupon to receive a FREE Pink Nation Tee.
The coupon is valid for one time use BUT each recipient can forward the e-mail to five others! So if you are not a member and have not received this Latinalicious deal, I'll forward the email to the first 5 to leave me their e-mails in a comment!
So hurry, get to clicking!