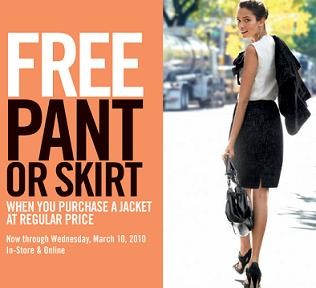 I received this offer from The Limited and wanted to share it with my readers since I thought it was such a great deal!
You can get a FREE pant, including jeans, or skirt with the purchase of a regularly priced jacket. This Latinalicious deal is available online or in store until March 10, 2010.
Click HERE to grab this freebie!
To receive offers of your own, click HERE to subscribe.
Best, if you subscribe via e-mail you will receive an introductory offer for $15 off $50. So go ahead sign up and save, save, save!
Enjoy and happy shopping!