~GIVEAWAY HAS ENDED~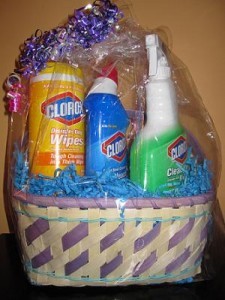 The blogoversary countdown continues! Today, on Day 4, we feature a brand many of us know and use: Clorox. 
I was delighted to recieve the basket pictured. It included Clorox Wipes, Clorox Clean-Up Cleaner with Bleach, Clorox Tiolet Bowl Cleaner and coupons for future purchase (loved that!). I promptly gave the products to my teen since he's in charge of the bathroom. Of course, he wasn't as delighted as I was but thats understandable

You may be asking why I would feature Clorox in my blogaversary countdown? At first glance it doesn't seem like something we would have at a fiesta / party but yet its one of the first brands I turn to when preparing for my real life gatherings! Why? Because I want my apartment to look as spotless as possible before I invite guests over!
Clorox helps me prepare by helping me:  
Clean—Remove visible dust and debris
Sanitize—Reduce bacteria on a surfaces
Disinfect—Kill common fungi, bacteria, and viruses on a surface
Want to get your home fiesta/ party ready? Enter to win a  basketful of Clorox cleaning products right here on Latina On a Mission. 
MANDATORY ENTRY- YOU MUST DO THIS BEFORE YOU CAN RECEIVE ANY EXTRA ENTRIES:
Check out the 35 Clorox Fun Facts about Bleach than come back and tell me which made you go Wepa / Wow! 
EXTRA ENTRIES:
1. Subscribe, follow my blog and/or fan my Facebook page for 1 entry EACH. If you're already do, let me know! NOTE: Unvalidated e-mails will be disqualified.
2. Follow @MsLatina on Twitter and tweet about the giveaway, stating the below. Provide me with the tweet url in a comment. One tweet per day till the giveaway ends, so go ahead tweet away! 
Enter 2 win a basketful of Clorox products http://tiny.cc/GW22  (Ends 4/12) #GIVEAWAY #MsLatina #home
3. Blog about the giveaway, linking back to this post, and provide me with the url for 5 extra entries.
4. Add my giveaway to any blog giveaway linky. Leave the linky url in a comment. Each linky add-on gives you  3 extra entry!
5. Leave a comment on a non-giveaway related post for 5 extra entries. Note the post in your comment and don't forget to enter each in a separate comment! Wouldn't want you to miss an entry!
6. Share this post and/or another post you enjoyed using any "Share and Enjoy" submission  (Example: Digg, Facebook, Technorati, MySpace, Stumble Upon, etc.).  Each post shared gives you 5 extra entries. Just let me know which post you shared and your username, if applicable!
7. Enter any other giveaway for 3 extra entries. Each additional giveaway entered gives you 3 extra entries.
**********
GIVEAWAY ENDS April 12, 2010 at 11:59 P.M. EST
Open to US residents
********** 
As always, I will use random.org to select the winner. The winner will have 48 hours to respond or another winner will be selected. Also, don't forget, in order for random.org to count all of your entries a separate comment must be entered for each item that is completed. Random.org will not count it otherwise!
Disclosure: In order to provide an honest review, I received the product reviewed. I did not receive any compensation for this post.