Hola and Happy Sunday!
The ecostore USA: Green Product Review and Giveaway has finished. One lucky winner will receive a $25 ecostore Gift Certificate to use in their store to purchase some Latinalicious green products!
I highly recommend the products I received: Laundry Liquid and Pure Oxygen Whitener. They work beautifully on your clothes and are especially good for people with sensitive skin, like my youngest Prince Andrew.
So without further ado, the winner is…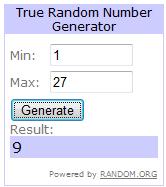 Lucky number 9! Congrats Jaime P you've won the ecostore $25 gift certificate! An email has been sent requesting your contact information. Please provide me with the same no later than Monday, March 29, 2010, 11:59 EST.
For all others who didn't win, you can still purchase your own eco-friendly products by going to ecostore USA. After using their products, I'm sure you will be as convinced as I was!