I am so sorry for the late announcement. Between work, the kids, Blissdom and life's drama I did not post the winner as promptly as I should have!
And so, without further ado, The Princess and The Frog winner is…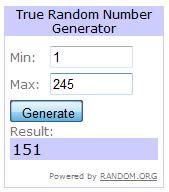 comment number 151! Congrats Michelle, your tweet paid off and won you The Princess and The Frog DS game!
I have sent you a DM. Please send your contact information to MsLatina (AT) latinaonamission.com. I will try to mail out your prize by the weekend.
As for all others, I have a few giveaways coming up. Stay tuned!