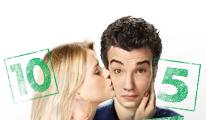 "She's Out of My League", a romantic comedy thats rated R, is set to open nationwide on March 12, 2010 but you have the opportunity to see it beforehand!   
Below I copied and pasted the info I found on Wikipedia.
The plot centers around Kirk (ay Baruchel) who works at the Pittsburgh airport as a Transportation Security Administration officer and has very few goals in life other than trying to get back together with his evil ex-girlfriend Marnie. Then he meets smart, sexy, charming Molly (Alice Eve) and contrary to all expectations starts dating her. But his initial excitement turns to panic as his insecurities and the advice of family and friends threaten to ruin the relationship.
The free screenings are available in the following states:
Albuquerque, NM
Atlanta, GA
Boise, ID
Charlotte, NC
Chicago, IL
Denver, CO
Detroit, MI
Flint, MI
Greensboro, NC
Hartford, CT
Honolulu, HI
Indianapolis, IN
Jacksonville, FL
Kalamazoo, MI
Kansas City, MO
Las Vegas, NV
Los Angeles, CA
Madison, WI
Memphis, TN
Miami, FL
Milwaukee, WI
Minneapolis, MN
Omaha, NE
Orlando, FL
Philadelphia, PA
Phoenix, AZ
Pittsburgh, PA
Portland, OR
Raleigh, NC
Rancho Cucamonga, CA
St. Louis, MO
Salt Lake City, UT
San Diego, CA
Seattle, WA
Spokane, WA
Tampa, FL
Tucson, AZ
Vestavia Hills, AL
West Des Moines, IA
West Palm Beach, FL 
Click HERE to get your free passes but hurry they go fast!