I love, love, love swagbucks! Yes, I know I've stated this a number of times but can you blame me?! Its a great way to get some wonderful swag (products/gift cards/cash and more!) by searching the Internet.  Click HERE to read my previous post which explains it further.
I recently redeemed my swagbucks for 2 sets of the below Corelle Livingware 16-Piece Dinnerware Set.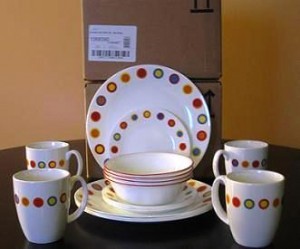 The set currently sells for $35.95 and ships for free with Amazon Prime. Two sets including tax cost $78.28. However, I redeemed my swagbucks for Amazon gift cards, total $60, and paid only $18.28! When I saw these I thought they were so festive and cheery, I couldn't resist. They are also chip resistant, which is always needed with kids, as well as dishwasher, oven and microwave safe! 
Swagbucks has a limit of 5 orders per prize each calendar month, as a result I could not redeem more swagbucks.  However, if I would have waited till February, I would have gotten them for FREE!
If you haven't joined already, you can join by clicking HERE or by clicking on the button below. By using this link, you will get 3 swagbucks to start you off. You'll also support Latina On a Mission, since I will earn swagbucks when you do as well (up to 100).    
So go ahead, collect that swag, just make sure you come back and share some pictures!
You can find more ways to earn by reading my previous post  HERE.