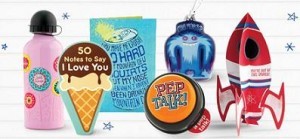 While at Blissdom, I had the opportunity to see the Hallmark Kids Collection. I loved them!
My boys' love receiving cards, whether by they're sent by mail, hidden in their backpacks, or placed under their pillows. I use them to plan special "Mom /Son Dates", to say "I love you", or just to make them smile.
When they've had bad days, a card can make them laugh. When they're sad, a card can cheer them up. When they've exceeded my expectations, those cards let them know how proud I am!  The list is endless and Hallmark cards have one for almost every occasion, which I love!
I'm excited to say that Hallmark is giving you ONE free card from their Hallmark Kids Collection. The free card can be picked up in stores and is valid until 5/30/2010.
Click HERE for details and go make a child's day!