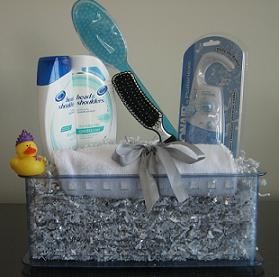 I recently received the basket shown on the left. It contained Head & Shoulders Dry Scalp Care Shampoo and Conditioner, a Conair water resistant shower radio, a Turbine Twist hair towel, a hairbrush, an EarthTherapeutics Back Brush, a rubber duckie and a reusable basket. I loved it, especially since I'm a huge fan of Head & Shoulders!
While growing up  in Puerto Rico, I used mayonnaise to soothe my dry and itchy scalp. It was purported to leave your hair moisturized and shiny. Yet I always felt as though everyone could smell the mayonaise I had just used! Definitely not the smell a teen girl wanted to have in High School!
Thankfully, as I've grown I've realized that I can use other products on my hair to relieve a  dry and itchy scalp. Head & Shoulders is one of the products we use in my home. It takes away the caspa / dandruff and leaves my hair shiny. So now when I swing my hair from side to side, men can't help but notice mi cabello / my hair and not because of any flaky dandruff either!

I'm excited to say that one Latinalicious reader will be able to put Head & Shoulders to the test by winning the same basket that I received! I'm sure after you receive it you'll agree with "Head & Shoulders' 7 Scalp and Hair Benefits"  (shown below).
fights dryness
calms itch
relieves irritation
reduces redness
controls oiliness
removes flakes
leaves hair beautiful
Ready to have beautiful, shiny, flakeless hair? Read on!
MANDATORY ENTRY- YOU MUST DO THIS BEFORE YOU CAN RECEIVE ANY EXTRA ENTRIES:
Look over the Head & Shoulders videos found HERE  and tell me which hair myth you previously believed. I used to believe using mayonaise would help dryness but now know better! Note: You have the option of viewing the video in English or Spanish.
EXTRA ENTRIES:
1. Subscribe, follow my blog and/or fan my Facebook page for 1 entry EACH. If you're already do, let me know! NOTE: Unvalidated e-mails will be disqualified.
2. Follow @MsLatina on Twitter and tweet about the giveaway, stating the below. Provide me with the tweet url in a comment. One tweet per day till the giveaway ends, so go ahead tweet away! 
Enter 2 win a Head & Shoulders Gift Basket http://tiny.cc/GW17  (Ends 3/5) #GIVEAWAY #MsLatina
3. Blog about the giveaway, linking back to this post, and provide me with the url for 5 extra entries.
4. Add my giveaway to any blog giveaway linky. Leave the linky url in a comment. Each linky add-on gives you  2 extra entry!
5. Leave a comment on a non-giveaway related post for 5 extra entries. Note the post in your comment and don't forget to enter each in a separate comment! Wouldn't want you to miss an entry!
6. Share this post and/or another post you enjoyed using any "Share and Enjoy" submission  (Example: Digg, Facebook, Technorati, MySpace, Stumble Upon, etc.).  Each post shared gives you 5 extra entries. Just let me know which post you shared and your username, if applicable!
7. Enter any other giveaway that expires AFTER 2/14/2010 for 3 extra entries. Each additional giveaway entered that expires AFTER 2/14/2010 gives you 3 extra entries.
**********
GIVEAWAY ENDS March  5, 2010 at 11:59 P.M. EST
Open to US Residents
********** 
As always, I will use random.org to select the winner. The winner will have 48 hours to respond or another winner will be selected. Also, don't forget, in order for random.org to count all of your entries a separate comment must be entered for each item that is completed. Random.org will not count it otherwise!
Disclosure: I received the same product given. No other compensation was given and the opinions in this post are mine.