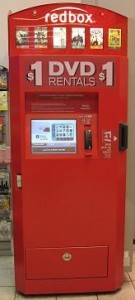 I've written about Redbox in the past because I believe they are a great way of renting movies at a very frugal price. They normally cost $1 per day, however, I'm normally able to rent movies for FREE by using Redbox Codes.
One great site which I use to obtain Redbox codes is called Inside Redbox.
The site allows users to share codes that they have received. Although not all codes work, I am always able to find one that does while at the Redbox kiosk. You can later note the ones that worked or didn't on the site to advise others and pass along the savings because as we all know it takes a community to save a buck!

That being said, if you know of any other sites that offer Redbox codes, please let us know in a comment below!