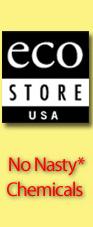 I've heard so much about "green" products from friends and the media over the past few years and never gave it much thought until my youngest son's issues with sensitive skin became known. Since his skin is extremely sensitive, I do try to use green products to clean his clothes, bedsheets, toys and room.
I don't always succeed in making the right decisions. In fact, in these tough economic times, I must admit the price of a product can and does trump its green qualities. However, with ecostore USA's green products I don't have to choose. I can have a green product that doesn't break the bank.
I first heard of ecostore over Twitter. At that point, I was given the opportunity to select two products that my family could use. I was able to select from their Baby Care, Bath & Body, Hair, Household, and Pet Care products. I chose the  Pure Oxygen Whitener and the Laundry Liquid. 
The Pure Oxygen Whitener is made with oil of citrus, coconut and other plant-based ingredients. Its an alternative to traditional bleach, which can be very strong and abrasive to people with sensitive skin. It does not have the harsh smell found on the bleach I normally purchase, yet brightens clothes just as well. I have also used it to clean my son's toys.
The second product I received was the Laundry Liquid,  a concentrated laundry liquid, made from "100% Certified Organic Eucalyptus oil and plant-based ingredients". The Laundry Liquid is gentle enough for people with sensitive skin, like my son. I also selected the liquid form, versus the powder form, because I find its easier to use in the laundromat.
The prices for the products I received, Pure Oxygen Whitener and Laundry Liquid, were very reasonable at $12 and $11, respectively.  They also lasted for quite some time because they were concentrated, doing more with less.  The prices on their other products are just as reasonable as the two I received which means price is not the determining  factor anymore.
Ready to try them out? I'm delighted to say that ecostore USA is giving one lucky Latinalicious reader a $25 ecostore Gift Certificate. Just  leave a comment as directed below in the "Mandatory Entry"! Want more chances? Check out the "Extra Entries"!  
¡Suerte! / Good Luck!
MANDATORY ENTRY- YOU MUST DO THIS BEFORE YOU CAN RECEIVE ANY EXTRA ENTRIES:
Tell me which product or products you would choose if you won. Click to go to ecostore USA
EXTRA ENTRIES:
1. Subscribe, follow my blog, follow me on Twitter and/or fan my Facebook page for 1 entry EACH. If you're already do, let me know! NOTE: Unvalidated e-mails will be disqualified.
2. Tweet about the giveaway, stating the below. Provide me with the tweet url in a comment. One tweet per day till the giveaway ends, so go ahead tweet away! 
Enter 2 win a $25 ecostore Gift certificate http://tiny.cc/GW18 (Ends 3/12 ) #GIVEAWAY #MsLatina #green #natural
3.  Follow ecostore USA on Twitter and/or Fan ecostore USA on Facebook for 1 entry EACH . Let me know you did in a comment below, making sure to leave your Twitter and/or FB name.
4. Blog about the giveaway, linking back to this post, and provide me with the URL for 5 extra entries.
5. Leave a comment on any non-giveaway related post for 5 extra entries. Note the post in your comment and don't forget to enter each in a separate comment! Wouldn't want you to miss an entry!
6. Share this post and/or another post you enjoyed using any "Share and Enjoy" submission  (Example: Digg, Facebook, Technorati, MySpace, Stumble Upon, etc.).  Each post shared gives you 5 extra entries. Just let me know which post you shared and your username, if applicable!
**********
GIVEAWAY ENDS March 12, 2010 at 11:59 P.M. EST
Open to US  Residents
********** 
As always, I will use random.org to select the winner. The winner will have 48 hours to respond or another winner will be selected. Also, don't forget, in order for random.org to count all of your entries a separate comment must be entered for each item that is completed. Random.org will not count it otherwise!
Disclosure: In order to provide an honest review, I received a Pure Oxygen Whitener and a Laundry Liquid. No other compensation was given and the opinions in this post are mine.