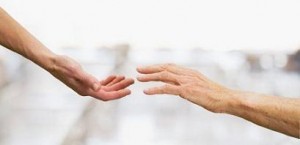 I read a lot of blogs. Many times as I read I think, "I know that feeling, its happened to me!"  Its at those time when I wish I was able to speak directly to the writer and say, "It'll be OK. I know."
When I was hungry, someone came along and brought me food, bags and bags of food. When I was thrown out and cast aside, feeling  forgotten and unloved, a long lost Titi /Aunt raised me as her own.  When facing eviction with a 3 year old son, I received an unexpected check. It was enough to cover the rent. When I was in court defending my son, feeling terrified and alone, crying in despair, a stranger prayed with me. When as a new driver, I  drove over 50 miles, with my sons in the backseat, at 2 a.m. forgetting to put on my headlights, weaving in and out of traffic and crying with despair, I made it to my destination…unscathed. There are so many other times I can name but suffice it to say, I survived. My boys and I survived.
Along the way, I learned I'm not alone. I never was. There was always a hand guiding me, rescuing me, holding me. When I thought I couldn't go any further, it nudged me and yes sometimes even shoved me!   
Now that I understand, I can vocalize it. It was God keeping us all along. So when friends ask, "How can you be so happy and cheery when you've gone through so much?" I reply, "Because of  Him."
For I know the plans I have for you," says the L
ord

. "They are plans for good and not for disaster, to give you a future and a hope." Jeremiah 29.11 (NLV)