Out with the old in with the new… JEANS!
This month I am tossing all my old, torn, faded jeans. I'm on a mission to find the perfect fit for these wide hips. Nothing that diminishes my curves and luscious frame will be accepted because I may be a Mom but I'm still a Mami!
That being said, what do you think are the most important features in a pair of jeans? I'm hoping you can take my poll and let me know! Mil gracias/ many thanks for your input, it will help me narrow down my search for the perfect chic jeans. Of course come back to check out my weekly pictures and input. I'll let you know which brands I've tried, the prices and the real scoop on how they look on a short Latina chick!  I'll also post a poll so you let me know what you think! I'll wait to hear from you before buying any pair.
Although to be honest the below pair looks so chic and is so cheap, I may just jump in and buy them to start me off! What do you think?  Its on sale for $34, with an additional 20% off with coupon code PZSAVE20.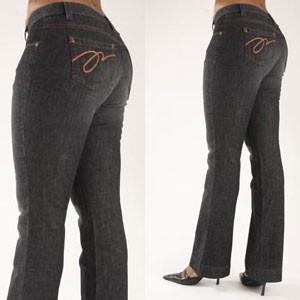 Click to see: *BIEN JEAN –  $27.20 with 20% Discount
Enter code PZSAVE20 at checkout discount
[SURVEYS 3]
*affiliate