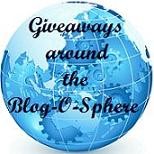 Have you had a chance to check out my Giveaways Around The Blog-O-Sphere link up? If you haven't, just click on the globe above. I highly recommend it! 
Some of my fellow Mom bloggers have had the opportunity to work with some amazing companies, bringing their findings to you via the giveaway link-up! Some of my faves are noted below, but I'm sure their are some that I missed. Of course, don't forget to enter mine noted on the right hand sidebar!
If you're a blogger, feel free to add your review/giveaways to the linky. I make sure to tweet and promote it at least once a month.
Good luck/ Suerte!