About a month ago, I was given the opportunity to review eShakti, an online clothing store that carries chic clothing in sizes 0-26. Even better, they allow you to customize their designs by altering the length of the sleeves, hem, and neckline to a style that most flatters your figure. You can also customize your size by entering your measurements!
As part of my review, I was able to pick one item from their site. I didn't realize how hard it would be to pick out one item! They had so many Latinalicious items, it was hard to decide!  I was  finally able to narrow it down to four dresses. What do you think?
The first dress appealed to my bohemian side. The sleeves on this dress would cover up my chunky arms, while the flowing style is perfect for spring and summer heat. I also loved the rich burgundy spiral applique and overall color combination. Its bold enough to satisfy my style, while sensible enough to be worn to daytime functions.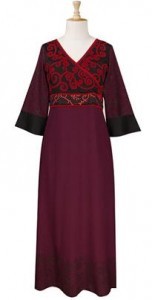 The second dress I looked at was called a Colorblock bell sleeve wrap dress and was very bright and vibrant.  This dress was offered in a variety of color options. I liked the black/blue combo yet I have to admit the red/white combination also caught my eye!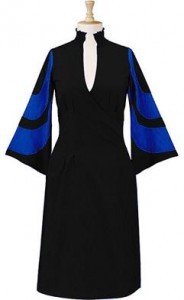 The third is a simple and beautiful sky blue/deep cocoa dress! It is part of eShakti's Spring 2010 Collection. Its so simple, its sexy!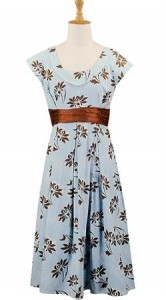 The last item, I looked at was an elegant calf-skimming  dress.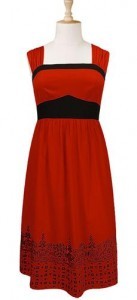 I won't tell you which one I selected since I'm planning on posting a picture of the dress when I receive it,  but you can leave your guess in a comment!
Click HERE to go to eShakti's site.  If you make a purchase, please share your pictures on my Facebook Page! I would love to see it!
SUPER EXCITING UPDATE:
All new and first time customers receive $20 OFF $30, PLUS you can get an additional $15 off your purchase if you join their Facebook Page, by clicking HERE, expires 1/31. What does this mean for you? It means you can get the Colorblock bell sleeve wrap dress  (shown above) in royal blue/black (vs the black/royal blue shown above) for $4.95!!! Or you can use this promo to purchase jewelery, accessories, leggings, jackets or any overstock item!
Enjoy and happy shopping! I know I will