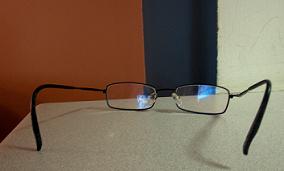 Do you see what I see? The picture above is of my 8 year old son, Andrew's eyeglasses. They are bent out of shape, crooked and look like they've gone through so much wear and tear. Worse, the part that goes behind the ear is breaking because we've had to straighten them out so many times. You would think they would be in better shape considering I purchased them last November, which is only 2 months ago!
Since they're prescription glasses, I went to my medical eyewear provider and they were super expensive even with the medical plan! They suggested the metal frames above but now I'm reconsidering their advise. Andrew is a very active 8 year old, who plays two hand touch and tackle football during recess which means he sometimes knocks off his glasses.
I'm able to get a set of glasses every year so now I'm on a hunt for eyeglass frames.  I'm thinking of going with plastic this time around. I'm also planning on purchasing them online since its so much cheaper. I'm hoping that the plastic frames will work better than the metal ones pictured above.  Has anyone else purchased eye-wear for their tweens? Which type do you think are best?
Disclosure: This is a sponsored post. All opinions are 100% mine.