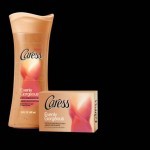 I was recently given the opportunity to review the new Caress' Evenly Gorgeous beauty bars & body wash. When the box arrived, I opened it and was met with a delightful smell. Normally, I prefer scentless soaps so that they don't compete with my perfume. However, after smelling the mixture of burnt brown sugar and Karite butter, I decided to forgo the perfume. I'm glad I did.
The Burnt Brown Sugar and Karite butter act to gently exfoliate and moisturize the skin. By exfoliating the top layer of dead skin, it enhanced the moisturizer's performance. This serving as an added protection, leaving behind smoother even looking skin. 
With this cold weather, my skin tends to dry out more rapidly, looking and feeling flaky and ashy. After using the body bar, I noted that my skin DID look smoother. My skin felt silkier, smoother… touchable. ¡Me encanto! / I loved it!
I have to admit I haven't used the body wash yet. I'm waiting for a day when I can soak in the tub, when the boys spend a day with family. Till then I sometimes open the top just to take a whiff. Yes, I'm weird like that.  

 
Now onto the the giveaway: One Latinalicious winner will win a set of Caress' Evenly Gorgeous beauty bars. Just make sure you do the Mandatory entry! I wouldn't want you to miss out! I've had to disqualify past "winners" in the past for not completing it.
MANDATORY ENTRY- YOU MUST DO THIS BEFORE YOU CAN RECEIVE ANY EXTRA ENTRIES:
Tell me what OTHER scent you would like to try from their collection by clicking HERE.
EXTRA ENTRIES:
1. Subscribe, follow my blog and/or fan my Facebook page for 1 entry EACH. If you're already do, let me know! NOTE: Unvalidated e-mails will be disqualified.
2. Follow @MsLatina on Twitter and tweet about the giveaway, stating the below. Provide me with the tweet url in a comment. One tweet per day till the giveaway ends, so go ahead tweet away! 
Enter 2 win Caress' Evenly Gorgeous beauty bars http://tiny.cc/GW13 #GIVEAWAY #MsLatina #beauty #Caress
3. Blog about the giveaway, linking back to this post, and provide me with the url for 3 extra entries.
4. Add my giveaway to anyblog giveaway linky. Leave the linky url in a comment. Each linky add-on gives you  3 extra entry!
5. Leave a comment on a non-giveaway related post for 5 extra entries. Note the post in your comment and don't forget to enter each in a separate comment! Wouldn't want you to miss an entry!
6. Share this post and/or another post you enjoyed using any "Share and Enjoy" submission  (Example: Digg, Facebook, Technorati, MySpace, Stumble Upon, etc.).  Each post shared gives you 5 extra entries. Just let me know which post you shared and your username, if applicable!
7. Provide "Latina On a Mission" with a positive Alexa review for 5 extra entries!  Click HERE to write a review. Note your review name below in 5 separate comments (example: Alexa review #1 under name, Alexa review #2 under name, etc.) If you have already given me a review, let me know!
**********
GIVEAWAY ENDS February  14, 2010 at 11:59 P.M. EST
Open to US and Canadian Residents
********** 
As always, I will use random.org to select the winner. The winner will have 48 hours to respond or another winner will be selected. Also, don't forget, in order for random.org to count all of your entries a separate comment must be entered for each item that is completed. Random.org will not count it otherwise!
Disclosure: I received a Caress Evenly Gorgeous beauty bar set and body wash.  No other compensation was given and the opinions in this post are mine. They have not been influenced by the product given.