Birthdays have changed for me as I've gotten older. A few years back I would have gone out with a group of friends, stayed out all night and come back home with barely enough time to change and get to work. Do you remember those days? It seems like only yesterday to me!
My latest birthday was different. I woke up, examined my grays, woke up the boys, examined my grays, got us dressed and did I forget to mention, examined my grays? I definitely felt older that morning, reminiscing and missing those earlier years. Yet as the day wore on, surrounded by all the people that make my life what it is today, I realized I didn't miss those days as much as I had previously thought and I wouldn't change my life as it is right now either!
What cinched it?
Three of my favorite men surprising me with a birthday song and these home baked cupcakes last night! Being the original fellows that they are, they wrote "Happy Berfday!" on the first set of cupcakes.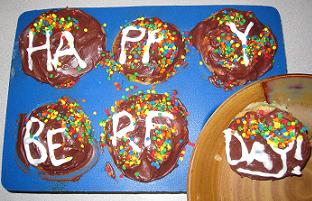 The cupcakes below say "We love you"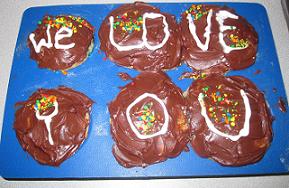 They may have been lopsided and the singing may have been off key but to me it felt like a gourmet meal presented on a silver platter in the middle of Radio City Music Hall.  
Nope, I wouldn't change my life at all! 
Happy WW!
If you're joining in the WW tradition, add your link below!