I've selected the T.J. Maxx and Marshalls $25 Gift Card Giveaway Winner. Sadly, the first person selected by random.org did not actually check the songs that were offered in the "Caroling Channel" as requested in my mandatory entry; as such, I had to disqualify that comment. Per the Official Rules, the four (4) approved Christmas Carols are:
Deck Yourself Out
We Wish You A Better Way To Christmas Shop ("Deck Yourself Out" and "We Wish You A Better Way To Christmas Shop" are collectively referred to as "Spendervention Carol(s)")
Jingle Bells
Deck The Halls
Please make sure you check the rules when commenting on giveaways.  If the mandatory entry is not answered and /or is falsified ALL other comments will be disqualified.
Now onto the giveaway winner… random.org selected comment number 24!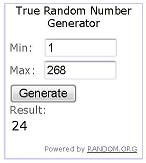 Comment Number 24 said:

24 Sharon Rooney

December 13th, 2009 at 12:19 pm

Facebook fan. Sharon Rooney

jerseygirl137(at)yahoo(dot)com
Congrats Sharon! I have sent you an email, please send me your contact information no later then Friday, January 1, 2010, 11:59 EST.
As for all others, I will be posting several other Latinalicious giveaways soon so don't despair!