This is a Sponsored Post written by me on behalf of Yamaha. All opinions are 100% mine.
My family loves listening to music. We always have music playing in the background. In fact, until my mother and brother gave us iPods you would hear us playing our music at all hours, even at night!
Before we received our iPods, you would also hear quarrels about what music should be playing at any given moment. I have to admit I would join in the ruckus back then too! Since we've received our iPods, those arguments have died down but its a mixed blessing.  We don't connect as a family as we once did. We're now in our own little "music world".  I've tried the radio but it doesn't play our favorites. I needed something else! Thus, when I was given the opportunity to look over the Yamaha website, I jumped on it!
While on the Yamaha site, I discovered the Yamaha PDX-60.
The site states it contains a "powerful speaker system with no sound delays" that can be used for iPods or iPhones. It also states it can be used to play "games, music and movies…wirelessly." PERFECT! This would allow us to listen to our iPods'  tunes without quarreling about which station to listen to!
It also lets you charge two separate iPhone or iPods at the same time, one using the dock on the speaker and another on the included charging cradle. This is great since we only have one charging station at home right now.
Last, but never EVER least, its chic, sleek and petite enough for my tiny NYC apartment!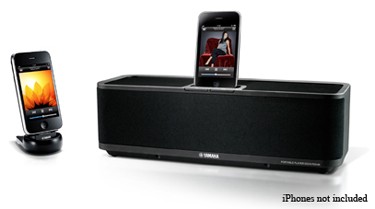 Yup, this is the one! Now all I have to do is see if I can get my family / familia to buy it for us!