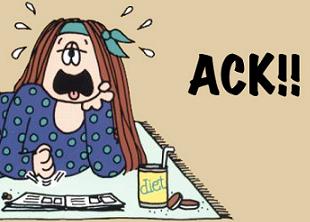 ACK! This has been a trying week! Worse, it kept me from posting my giveaways, freebies and discounts in a timely manner, which is so unlike me so I wanted to apologize. There's so much going on in the Latina household that I've been missing in action on Twitter, Facebook and my Blog!
First, I was sick. As most women know, being sick doesn't mean we can take off and lay in bed but this time I had to.  My body was screaming, "BASTA!" which means STOP in Spanish. For those of you who have always wondered whether a foreigner speaks/thinks in their language and then translates it to English, I DO! When I'm stressed or not feeling up to par, I completely forget my English. Of course, this meant I could not write my blog. If I would have tried, it may have come across as gibberish! 
Second, my teen lost his cell phone a few days before he was set to go to the Bahamas on a cruise with the Columbia Leadership Program. This is his THIRD blackberry this year and although I have insurance it still costs a little over $90 for each new phone. Definitely put a crimp on my Christmas budget! In the end, we received the phone the evening before he left, my brother Ken drove us to the airport, and I'm happy to say neither I or the little one cried this time. Yay!
Third, I haven't finished my Christmas Shopping!!! Its been so hectic with the teen's trip, sickness and projects at work that I haven't had time to do my shopping, which means these next few days I will look as harried as Cathy. Do you recall that cartoon character? She was one of my faves and for some reason I could always relate to her. According to Wikipedia, she  "struggled with the "four basic guilt groups" of life — food, love, mom, and work", but what woman doesn't right?
Bueno/Well, I am off to tend to the little one! Here's hoping you have a better week then my last one!