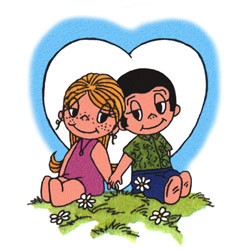 Do you recall the "Love Is. . ." cartoons by Kim Casali? They were a collection of cartoons expressing what "Love is…" As a young girl, I recall enjoying those cartoons and thinking that is how my mate would treat me. Yet reality is very different from cartoons for some tweens and teens. It is hurtful, abusive, and violent.
On December 3, 2009, Liz Claiborne held their annual event, "Time to Talk"*. The event aimed to bring teen relationship abuse to the forefront, with several domestic violence experts, as well as parents and teens who had experienced it firsthand.
While at the event, I was able to speak with several domestic violence experts, including Stephanie Nilva, the Executive Director of Day One.  She explained that one in three teens will experience relationship abuse in some shape or form. The numbers are even more saddening when you take into account the unreported abuse. For this reason, parents need to discuss this issue with their children while they are young. Instilling in their child what is acceptable and unacceptable behavior provides them with knowledge that can save them. Trust must also be established while they are young so that they will not be afraid to seek help. If, however, your children are already tweens and teens, Ms. Nilva stressed the importance of being very open, patient and non-judgemental when discussing relationship abuse. Doing so, will give them the opportunity to open up if they are already in such a relationship.
However, parents must do more than talk. They must listen. Bincy Jacob, of My Sisters' Place, brought up this  important reminder when she stated, "Teens are already marginalized. They are silenced in so many ways."   By gaining their voice, they can vocalize what is occuring and can than seek help.
Sadly, 17 year old Aneese Michelle Rivera did not find her voice in time. She was murdered by her boyfriend and two of his friends on October 3, 2008. Martiza Rivera, her Aunt and a New York State Action Leader for a  national coalition called MADE: Moms and Dads for Education to Stop Teen Dating Abuse, spoke to me about their ordeal.  As noted by Maritza, "friends and family all saw the warning signs but didn't know where to go or what to do for help … I firmly believe that had there been any kind of education or awareness made regarding Teen Dating Violence and Abuse in the community, media and especially in the schools that Aneese and all the other victims who have fallen prey to their abusers, would still be with us today."  Watch the video below. Hear the story in Maritza's own words.
Learn the signs. Empower yourself. Discuss it with your children.  Join MADE: Moms and Dads for Education to Stop Teen Dating Abuse. Sign the pledge. Raise awareness in your community. End teen dating abuse. 
Click below to download FREE copies of the following books or pamphlets:
Important Statistics¹:
62% of tweens (age 11-14) know friends who have been in a verbally abusive relationship
Only half of all tweens (age 11-14) know the warning signs of a bad/hurtful relationship
1 in 3 teenagers report knowing a friend/peer who has been hit, punched, kicked, slapped, choked or physically hurt by a partner
Nearly 1 in 5 teenage girls who have been in a relationship said a boyfriend threatened violence or self-harm when they tried to break-up
13% of teenage girls who said they have been in a relationship report being physically hurt or hit 
30% of murdered teens between the ages of 15-19 are killed by their husband or boyfriend
24% of 14-17 year olds know at least 1 student who has been a dating violence victim
 81% of parents either believe teen dating violence is not an issue or admit they don't know if it is an issue
Less than 25% of teens say they have discussed dating violence with their parents
¹Statistics obtained from Love is Not Abuse
If you are a teen in an abusive relationship (ages 13-18), you can call The National Teen Dating Abuse Helpline (NTDAH) at 1-866-331-9474 or 1-866-331-8453 for the Deaf, Deaf-Blind and Hard of Hearing. It is a 24-hour national web-based and telephone resource serving all 50 states, Puerto Rico and the Virgin Islands. You can also initiate a live chat by clicking HERE.
*Disclosure: I received a $50 Juicy Couture gift card for participating in Liz Claiborne's "Time To Talk" event.