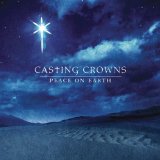 I love Casting Crowns! They are one of my all time favorite groups. The boys and I have gone to their concert in the past and are planning on going to another one in February! Side-note: Emily, Christina, Kenny, Millie, Rebeca GET READY I'm getting group tickets!
If you haven't heard this group play, you are now going to have the chance to listen and download their version of "Joy To The World"! After hearing it, I'm sure you'll understand why they were chosen to play before the President last year. Their song is amazing and filled with the joy that Christmas should bring. Definitely a song that will help get you into the spirit of Christmas!
Enjoy and don't forget to stash that ca$h!
Click to listen and download: Joy To The World