The Fanci-full giveaway winner has been selected and I have to say you are one lucky lady! All others interested in Fanci-full hair products can buy their own online at Amazon for $4.77 on Amazon or if you can't wait, you can also find them at CVS, Rite-Aid and Walgreens.
Without further ado, the winning number is #37.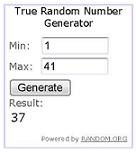 No. 37 said:
Congrats Betty! I hope you enjoy your Fanci-Full Temporary Hair Color. You have 48 hours to respond to my e-mail and provide me with your contact information.
 Thank you and enjoy!