I'm excited to announce the California Raisins Gift Basket Giveaway WINNERS! The gift baskets will contain the following:
WiWithout further ado the giveaway winners are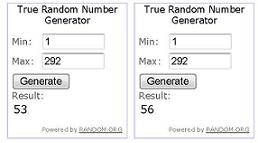 Congrats Susan and Deb Anderson on winning these Latinalicious California Raisins Gift Baskets! You will love making the recipes found HERE and HERE. I know I have!
I have sent out e-mails. Please make sure to send me your contact information before Monday, 11:59 p.m. EST, or another winner will be selected!
For all others who did not win, I have a few more Latinalicious giveaways with some great goodies coming up this week so stay tuned!
Hasta Luego! / Till then!