~GIVEAWAY IS CLOSED~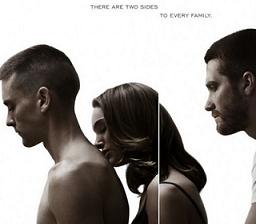 Brothers starts today! The movie, rated "R", stars Tobey Maguire, Jake Gyllenhaal (hottie!) and  Natalie Portman.
Below is a brief synopsis:
BROTHERS tells the powerful story of two siblings, thirty-something Captain Sam Cahill (Tobey Maguire) and younger brother Tommy Cahill (Jake Gyllenhaal), who are polar opposites. A Marine about to embark on his fourth tour of duty, Sam is a steadfast family man married to his high school sweetheart, the aptly named Grace (Natalie Portman), with whom he has two young daughters (Bailee Madison, Taylor Geare). Tommy, his charismatic younger brother, is a drifter just out of jail who's always gotten by on wit and charm. He slides easily into his role as family provocateur on his first night out of prison, at Sam's farewell dinner with their parents, Elsie (Mare Winningham) and Hank Cahill (Sam Shepard), a retired Marine.
Shipped out to Afghanistan, Sam is presumed dead when his Black Hawk helicopter is shot down in the mountains. At home in suburbia, the Cahill family suddenly faces a shocking void, and Tommy tries to fill in for his brother by assuming newfound responsibility for himself, Grace, and the children.
But Sam is not dead; he and a fellow soldier have been captured by Taliban fighters. In Afghanistan's harsh, remote Pamir Mountains, Sam is subjected to traumas that threaten to rob him of his very humanity. At the same time that Sam's sense of self is being destroyed overseas, Tommy's self-image is strengthening at home. And in the grief and strangeness of their new lives, Grace and Tommy are naturally drawn together. Their longstanding frostiness dissolves, but both are frightened and ashamed of the mutual attraction that has replaced it.
When Sam unexpectedly returns to the States, a nervous mood settles over the family. Sam, uncharacteristically withdrawn and volatile, grows suspicious of his brother and his wife. Their familiar roles now nearly reversed, Sam and Tommy end up facing the ultimate physical and mental challenge when they confront each other. In the shifting family dynamics, who will dominate? And how will the brothers come to terms with issues of love, loyalty, and manhood—and with the woman caught between them?
 You can also view the trailer below. FYI: Its intense.
Sounds like a movie to call home about? Of course, it does!  That's why I'm happy to say that 25 people will be able to win, not one, but FOUR phone cards! The phone cards are each worth $3 dollars, which is about 2 hours of international call time. Perfect for holiday travels and stocking stuffers!
MANDATORY ENTRY
After viewing the trailer, tell me which part intrigued you the most!
EXTRA ENTRIES:
1. Subscribe or follow my blog!  NOTE: If you subscribe by e-mail, you must validate your e-mail address.
2. Follow @MsLatina on Twitter and tweet about the giveaway. Include the hashtags #GIVEAWAY and #MSLATINA in your tweet.   One tweet per day till the giveaway ends, so go ahead tweet away!  
 3. Blog about the giveaway, linking back to this post.
**********
GIVEAWAY ENDS December 12, 2009 at 11:59 P.M. EST
Giveaway is open to US residents only.
**********
As always, I will use random.org to select the winner. The winner will have 48 hours to respond or another winner will be selected. Also, don't forget, in order for random.org to count all of your entries a separate comment must be entered for each item that is completed. Random.org will not count it otherwise!
Disclosure: No compensation was given for the posting of this giveaway. I did it because the movie looks amazing!

If you decide to go, skip the box office lines and buy the movie tickets online at Fandango.
 Enjoy!