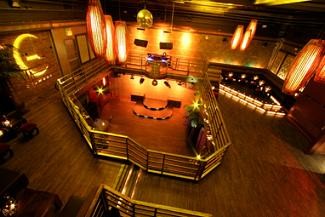 Photo courtesy of  Element 
Last month a good friend of mine (Hey Christina!) invited me and the boys to an XBox event in the very chic and trendy Element. We were also able to take my cousin, Luly, and her son, Tri.
The boys were super excited to attend the event because of course they are video game junkies! The teens, Big K and Tri, were also excited because of the venue. I teased them about it saying "Wow can you believe you guys are in a lounge and you didn't even have to sneak in!" Shoot, I didn't go to my first club/lounge till I was 19!  It was with my cousin Luly and I have to say we had a blast that night with my brother and his friends but I digress…
They had two games, Twist And Shout with The Beatles: Rock Band and the new LEGO: Rock Band. The Lego game is rated 10+. It was rated 10+ for mild language. I did not hear any curses in the songs that played while I was at the venue; however, I did  not hear all of the songs on the game.  I also do not know all of the artists and can not say what the "mild language" was. You can review the music included in the game by clicking HERE.
Prince played the Lego game with a few of the other children in the event.  He was concentrating so hard, focusing to make sure he hit that drum at the right moment that he refused to look at me when I went to get a picture.  Look at that serious face!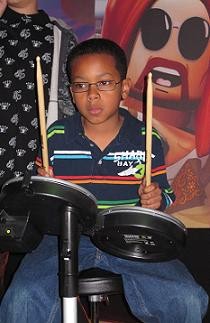 I finally convinced him to join me and the rest of the family in the main area where everyone else was playing The Beatles: Rock Band. We sat and watched a few of the other families go up on stage. The two little girls in the video joined every family on that stage! They refused to leave because they were having such a great time dancing on that stage. Aren't they adorable?  
The fam and I eventually decided to go up on that stage and show off our own skills. Big K was on the drums, Tri and Prince were strumming the guitars,while Luly and I put our vocal cords to use singing, "I want to hold your hand". We hit every beat on that Beatles song, harmonizing at the right spot and sounded GREAT! Seriously, if there would have been a record label in the audience they would have made us sign on the spot! Of course, if you believe that then I have a few things I need to sell you!

Below are a few pictures of the family.
It was fabulous, we rocked it all night long! The games are perfect for families and look like a good purchase if you own an Xbox.
Do you already own the games? Let me know what your experience has been!