The Suave giveaway winner has been selected! There were a total of 286 comments vying for this Latinalicious giveaway but only ONE could win.
So without further ado… the winner is number 76!!!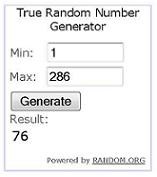 Lucky number 76 said:
76

 Mary M  October 29th, 2009 at 4:59 pm
Mary M, I have sent you an e-mail. Please respond within the next 48 hours or another winner will be selected!
Enjoy!