The Uprinting winner has been selected using random.org. There were a total of 33 entries, after I deleted the comments that were not valid.
The giveaway winner is…Lucky number 13!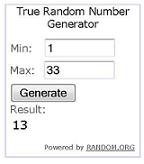 Number 13 said:
13 Lisa November 9th, 2009 at 8:35 am
I'm a fan on FB #1 
Congrats Lisa! An e-mail has been submitted notifying you of your win! You should receive an e-mail from the company shortly.