~GIVEAWAY IS CLOSED~
I'm a coffee lover. In fact, I couldn't make it through the day without a few cups of my java jolt! My boys, on the otherhand, love tea and hot chocolate on those cold mornings. I'm glad we all love different types of drinks but have to say it was a chore when I had to make three different types of drinks every morning.  Those days are long gone! I no longer have to boil water for the tea, microwave the instant hot chocolate, and colar/strain the coffee thanks to shoffee.com and the Keurig brewer they gave me!
Nowadays, I just pop the appropriate K-cup, whether its coffee, tea or hot chocolate, into my Keurig brewer and it magically produces my drink! Ok its not really magic but it sure feels magical when I am savoring that fresh brewed cup of coffee. No more stale coffee for this Latina. I've been spoiled and I am never going back to my old coffee maker. This one gives me a fresh cup every single time, paying for itself ten times over. Also if you are like me and like iced coffee, the Keurig also sells Iced coffee K-cups. All you have to do is add ice and your fresh brewed coffee into a leak proof coffee cup and shake, shake, shake!
But enough about me, let's talk about YOU and how shoffee.com wants to give your holidays a jolt by spreading some coffee cheer! Shoffee has decided to play Santa this year by introducing you to the same pain free morning that I've experienced. I mean seriously who has the time when they are racing around to get the kids up and ready for school and themselves to work. As for purchasing a cup of coffee at the nearest store, have you seen those lines lately?! With the amount of time I would spend on that line I could have already drank  a few cups of my Keurig coffee AND saved some money!  
So follow the rules below, making sure to complete the mandatory entry, and you just may find Santa shoffee delivering the below items to your mailbox!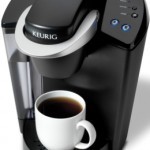 1 Keurig Elite B40 Brewer
2 Boxes of Keurig K-Cups (Winner's Choice)
2 Shoffee.com Travel Mugs
Now I am off to savor my own cafe/coffee. Good luck!
MANDATORY ENTRY- YOU MUST DO THIS BEFORE YOU CAN RECEIVE ANY EXTRA ENTRIES:
Tell me which shoffee.com K-cups (flavor of coffee/tea/hot cocoas) you would choose if you won the giveaway. Choose wisely, these may be the K-cups you are given if you win.
EXTRA ENTRIES:
1. Subscribe via e-mail or feed. Subscription options can be found on the right-hand side. If you're already a subscriber, let me know! NOTE: If you subscribe by e-mail, you must validate your e-mail address. You can do so via the e-mail sent by Feedburner. If you do not validate your e-mail address the entry will be disqualified.
2. Follow @MsLatina on Twitter and tweet about the giveaway, stating the below. Provide me with the tweet url in a comment. One tweet per day till the giveaway ends, so go ahead tweet away!
Enter 2 win a www.Shoffee.com Keurig Brewer, K-cups & More! Click to enter: http://tinyurl.com/ydcyzw7 #GIVEAWAY #MsLatina RT
3. Blog about the giveaway, linking back to this post, and provide me with the url.
4. Fan my Facebook page (2 extra entries).
5. Leave a comment on TWO other posts for TWO (2) extra entries. Note the post in your comment and don't forget to enter each in a separate comment! Wouldn't want you to miss an entry!
6. Every Wednesday,  use the #WepaWednesday hashtag to tell others why www.shoffee.com  makes you scream Wepa/Wow! Click HERE to read more about this hashtag.  Leave your tweet url in a comment below. (Up to 3 different tweets  for 3 extra entries every Wednesday until the contest ends)
**********
GIVEAWAY ENDS December 10, 2009 at 11:59 P.M. EST
Check out Santa Shoffee's 9 weeks of Giveaways by clicking HERE.
Visit New York Chica for another chance to win.
**********
As always, I will use random.org to select the winner. The winner will have 48 hours to respond or another winner will be selected. Also, don't forget, in order for random.org to count all of your entries a separate comment must be entered for each item that is completed. Random.org will not count it otherwise!
Disclosure:
As part of my review, I received a Keurig brewer, K-Cups and travel mugs.  No other compensation was given and the opinions in this post are mine. They have not been influenced by the product given.