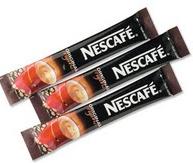 I love Twitter. If you haven't joined you really must, click HERE to read my previous post.  Its a great way of finding deals and steals like this FREE NESCAFÉ Coffee!
NESCAFÉ is giving away free samples of its 6 varieties of coffee. The offer is limited to one per person AND two per household/address so have your hubby sign up for their own sample to receive a total of 12 samples! It also avoids having to share

Click HERE to request your FREE coffee.
Click HERE to download coupons for future purchases.
Enjoy and don't forget to stash that extra ca$h!