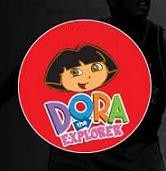 The NETS have a new section at the IZOD Center called "Kids Country". This area, located in Section 240, gives any adult who buys a season ticket for $15 per game a FREE $15 season ticket for a child 12 years old or under. Its an inexpensive holiday gift, that won't break the budget and will create some wonderful memories.
Since Nickelodeon is sponsoring the "Kid's country" events, they will have various Nickelodeon character appearances, promotional giveaways and more at each of the below listed events.
This Saturday, Nov. 21, 2009, they will have a Dora the Explorer costumed character and Caitlin Sanchez – the voice of Dora – performing the National Anthem. They will also the NETS Dancers, the NETS Kids dance team, Team Hype, and team mascots Sly and Mini-Sly performing. Definitely something the kids will like!
As for holiday gifts, $15 for two tickets, is a deal! I plan on buying a few for friends and family myself. 
Below are the special game dates:
Wednesday, Dec. 23 vs. the Minnesota Timberwolves
Saturday, Jan. 2 vs. the Cleveland Cavaliers
Wednesday, Feb. 10 vs. the Milwaukee Bucks
Sunday, Feb. 21 vs. the Memphis Grizzlies
Friday, March 5 vs. the Orlando Magic
Saturday, March 20 vs. the Toronto Raptors
Saturday, April 3 vs. the New Orleans
Click HERE to purchase tickets.
Enjoy and don't forget to stash that extra ca$h!