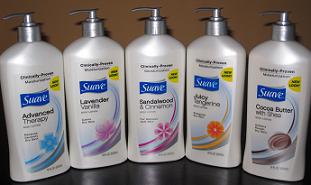 While at Blogalicious, I was given a hand massage with the Suave Lavender Vanilla Body Lotion. The masseuse lathered my hands with the Lavender Vanilla, hitting the right spots to relieve my stress, while the vanilla scent soothed my senses. To say it was heavenly is an understatement! 
After the massage, I was offered and given several bottles. I chose the lotions pictured above for their smell as well as their soothing qualities. After using the products for several weeks, I've noticed my skin is much softer, a wonderful quality for any woman to have! As a gentleman once told me, a massage from a woman with soft skin is like hitting the lottery.  I have to admit he was onto something! Not only do I feel like a million bucks, but my skin radiates youth and vigor!
Suave lotions help combat the cold weather outside, as well as the dry weather indoors. They relieve and soothe dry skin, restoring your skin's natural moisture.  A Suave 18 fl. oz body lotion currently sells at Amazon for $4.49, without tax. However, Suave is offering one of my Latinalicious readers a chance to win FIVE (5) bottles of Suave Body Lotion!
Ready to enter? Follow the rules below! Suerte/Good luck!
MANDATORY ENTRY- YOU MUST DO THIS BEFORE YOU CAN RECEIVE ANY EXTRA ENTRIES:
Look through Suave's website and let me know which body lotion you would select AND why. Click HERE to go to their site. 
EXTRA ENTRIES:
1. Subscribe via e-mail or feed. Subscription options can be found on the right-hand side. If you're already a subscriber, let me know!  NOTE: If you subscribe by e-mail, you must validate your e-mail address. You can do so via the e-mail sent by Feedburner. If you do not validate your e-mail address the entry will be disqualified.
2. Follow @SuaveBeauty on Twitter and leave a comment with your Twitter name, so I can verify.
3. Follow @MsLatina on Twitter.
4. Tweet about the giveaway, stating the below. Provide me with the tweet url in a comment. One tweet per day till the giveaway ends, so go ahead tweet away!
 Enter to win 5 bottles of Suave Body lotion from @SuaveBeauty  http://bit.ly/42dEeE #GIVEAWAY #MsLatina RT
5. Blog about the giveaway, linking back to this post, and provide me with the url.
6. Fan my Facebook page, by clicking HERE.  Leave me a comment letting me know you did.
7. Leave a comment on two other posts for TWO (2) extra entries. Note the post in your comment and don't forget to enter one per comment! Wouldn't want you to miss an entry

**********
GIVEAWAY ENDS November 7, 2009 at 11:59 P.M. EST
Giveaway is open to US residents only.
**********
As always, I will use random.org to select the winner. The winner will have 48 hours to respond or another winner will be selected. Also, don't forget, in order for random.org to count all of your entries a separate comment must be entered for each item that is completed. Random.org will not count it otherwise!